For Kim and I, the TCT spring and fall rally's in Milford MI at Camp Dearborn are the bookends of our summer season.  The spring rally, always on the third weekend of May, kicks off summer, and the fall rally, third weekend is September is the wrap.  We like to have at least one more fall outing after the TCT event, but this years busy schedule didn't let us squeeze in another weekend outing.  The weather this spring was a bit cool, as was the entire summer here, but the summer weather waited until after the end of September to start to wane, and we were rewarded with absolutely perfect weather all weekend for the rally.  The clouds even parted Sunday night for the total eclipse of the "Super Moon", so I don't have to wait another 30 or 40 years for that!   We're still enjoying an extended, mild autumn, the leaves have just begun to turn here, so the mild, beautiful weather continues.  Part of the reason I'm only now getting around to writing this…
This year Kim and I took a couple of extra days off for the event, and even though we missed Fridays activities coming home for our niece's wedding, this years get together was the most fun yet.  We'd planned on leaving early Thursday, but instead hitched our little "Tini-Home" canned ham to the Pontiac wagon and headed out Wednesday after Kim got out of work.  We rolled into Camp Dearborn just at dusk, and got landed in record time up on "The Hill".  For this trip we slimmed down our decor and accessories, partly because of limited room in the 13′ trailer, a lesson we learned on this summers "Super Yooper Looper Tour" and partly because we had to leave Friday.  At any rate, the downsizing was a welcome change, we took about 10 minutes to set up and "decorate", and packing up was similarly streamlined.  We are going to let this be an inspiration when we complete the "new" '47 Spartan Manor…
Thursday was a great day to relax to a beautiful sunrise, watch our friends, and the many "newbies" roll in from our vantage point up on the hill overlooking the rest of the park.  (Since the Starlight Lounge has been retired, we can enjoy much earlier mornings!)  Warm and sunny, the day was perfect for strolling around, checking out trailers we hadn't seen before,  shopping in Milford, cruising around the park and meeting new folks in the "Welcome Wagon".  The induction of new members after supper was HUGE, with almost as many new members learning the secret handshake, secret password, and club song as veterans at the tables!  They were in fine voice too, during the sing along.  After that, a great presentation on where the hobby is going from Vintage Trailer Supply gave us a little insight into the hobby (lifestyle?) and where we may be going.  Thanks for coming all the way to Michigan guys!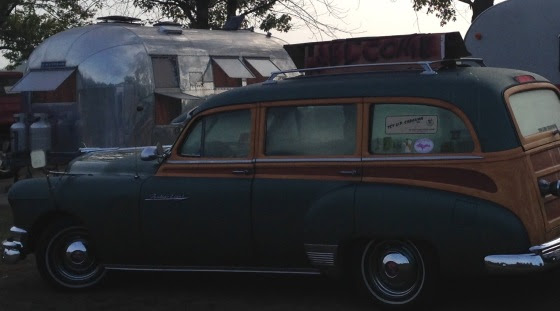 Friday morning breakfast at the Big Top was great as usual, scrambled eggs, ham, biscuits and gravy left everyone in a calm post prandial stupor, which made shopping downtown in Milford easier for the guys.  The historic Graton trailer was on display for all to see, a treat to see this unrestored, original condition  pre-war home built trailer.  The day saw some new activities with the Welcome Wagon continuing to greet the new folks, a poker run for newbies, and another great TCT evening meal with everyone in the Big Top.  Later, Billy Mack and the Juke Joint Johnny's rocked the roof of for the Mad Hatter Dance Party.
We were sorry to have missed Fridays fun, as we left mid-day to go back to Grand Rapids for our niece's wedding.  She was a beautiful bride, and we've gotten her started off with a wedding gift of a '67 Dodge Travco motorhome!  She's planning on converting it to a mobile hair salon/spa, so we'll keep the tradition of vintage RV's in family, this time with a new twist.  Which I understand is some sort of hair style…
Saturday we were happy to leave the Tini-Home door open for visitors, walk away, and actually have time to walk around during the open house.  We made the best of it.  We saw lots of great trailers we hadn't seen before, and got some great ideas for our new Spartan.  We were lucky to score a remnant of really cool 40's vintage linoleum during the flea market from TCT friends Julie and Steve which will become a table top, and hopefully enough to make some TV trays as well.  Thanks guys!  That evening was another game of "Playing Card Bingo", with thrills, chills, and fabulous prizes!  Well, some fabulous, and some not so fabulous, but it's all in fun, and hey, everybody needs something for next years game, right?
There was a new activity as well on Saturday night, Blue Poly Waste Tank Racing, which made up for it's inherent danger by being totally unsafe, although the darkness did make it seem more dangerous than it probably was.  If we kept anyone awake, apologies all around.  Next year, we promise better organization, and a wider fleet of racers.  Anyone needing imminent hip replacement would be well advised to pass, trust me on this, and please, clean, unused tanks only…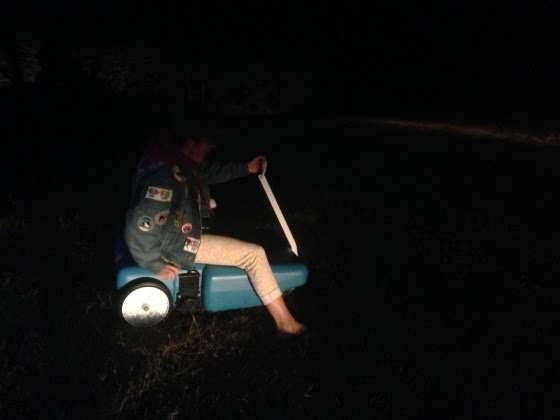 Sunday the vantage point of being up on the hill let us watch the caravans get packed up and roll out below us.  Several of us who also had Monday off moved down to the lower loop after everyone moved out, and we had a very relaxing evening under the stars.  It clouded up after sunset, but we were rewarded for being patient as the clouds parted as the Lunar eclipse began and we were treated to a spectacular sight of the blood red Super Moon in full eclipse.  Again, the feeling that the friends made are much more important than the trailers was reinforced, as much as we love the trailers, it's the people that make the TCT so special, and so important to us.
Monday we had breakfast in town with friends, and headed home.  We got with about 20 miles from home, when the Pontiac uncharacteristicly sputtered and died.  As we coasted off to the side of M-66, we each said, "Didn't we fill up in Milford before we left?"  The answer was yes, we had, but we both had forgotten about driving to Grand Rapids and back on Friday, and while we filled up then, the wagon can't be driven 300 miles pulling a trailer on 18 gallons of gas!  Fixing the gas gauge may be one of this winters priority projects.
We're now busy getting our Spartan, a '47 Manor, the "Last Trailer", ready for next years camping and TCT trips, and many more years after that.  We'd never have gotten this involved, done so many things, or taken the trips we've done with the TCT without the Bone's, Forrest and Jeri, Terry and Michelle, and ALL of the great TCT friends we've made belonging to the Tin Can Tourists.  Thanks for all the hard work, caravans, rallies and camping fun.   Truly, the more we get together, the happier we'll be!