Eljay
Manufacturer Information
From the start ElJay trailers were designed for regional New England market, they were rare so today surviving models of Toaster, Pup, Birchwood Beauty are real jewels…
ElJay trailers were manufactured by Eljay Mfg. Co., located on Keene Road, Winchester, New Hampshire.
They remained in vogue during the 1950's and 1960's.
But not many trailers were rolled out, the range of models was small and frankly EIJay was primarily a regional brand.
These rugged canned-ham trailers came in 13 and 15ft lengths. ElJay trailers proudly embodied the post-war attitude and workmanship that define products of this era.
The trailer was one of the most rugged travel trailers of the country made to negotiate the New England weather. The company claimed that these trailers could travel fast even in rough, dirt roads.
Toaster
ElJay left behind very few documents that now after so many years, could shed some light on its history. Many owners do not have complete information about the model or even other vital stats. Today, most models of EIJay trailers that survived the time can be identified only by their year of manufacturing. The 1956 make RV called "Toaster" is a single axle canned-ham type trailer. It has one door at central right side. Eight windows on four sides provide a lot of air and light.
This trailer came with the usual trappings like multi-burner gas stove, sinks, drawers, cabinet and upholstered sofa cum bed. The interior was finished with white oak. The birchwood paneling on sides was twice as thick as in case of other trailers. This gave the trailer solid insulation and rigidity. The exterior aluminum finish gave the trailer a shiny look.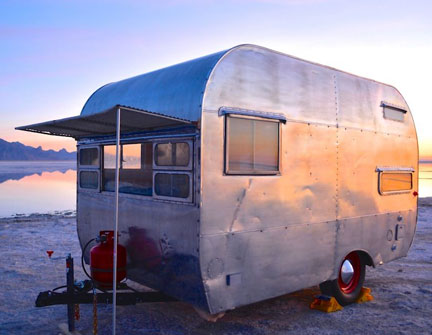 Today a rarity – ElJay Travel Trailer
Source: www.messynessychic.com
Pup
Pup was a full aluminium exterior rugged camping trailer introduced by ElJay in the 50's. The dinette is in the front and bed in the back. The small size is ideal for towing. This model was a favourite of the hunters. The power system had 12V and 120V wiring with insulation.
1959 Birchwood Beauty
Made back in the late 1950's this camper has a lot going for it. It is easy to tow and comes with stunning look. Trailer was decorated with Formica topped table in the dinette and well cushioned sofas and beds. Front dinette drops down to make a big bed, and the back couch pulls out to make a big bed too. The spacious closets and cabinets provided great convenience to the occupants. An elegant dinette and galley added to the elegance of the Birchwood Beauty.
1961  Eljay Travel Trailer
The length of this model is 16ft and width correspondingly 7ft. It sleeps five with its beds in dinette and back. Interior is all shiny birch, floor with vinyl gives the trailer a smart look. Its features include: stainless steel wet bath, stove/fridge combo, table drops to bed, back bench drops down to bed and original canvas bunk above. The trailerhad one door and one axle with one window on each side. The ribbed aluminum exterior gave the trailer a rugged look.
Unique features/Options
Pictures